Top Things to Consider when Returning to the Workplace, whilst COVID-19 is still a Threat
This Guide is relevant to businesses of all types and sizes and offers independent 'jargon-free' guidance on the key areas of consideration for businesses when returning to the workplace, whilst COVID-19 remains a threat.
It offers practical direction on areas to consider including phased return, adhering to social distancing, health & wellbeing of employees, re-orientation programmes, rebuilding workplace morale and scenario planning.
Complete the form to download a copy of our guide.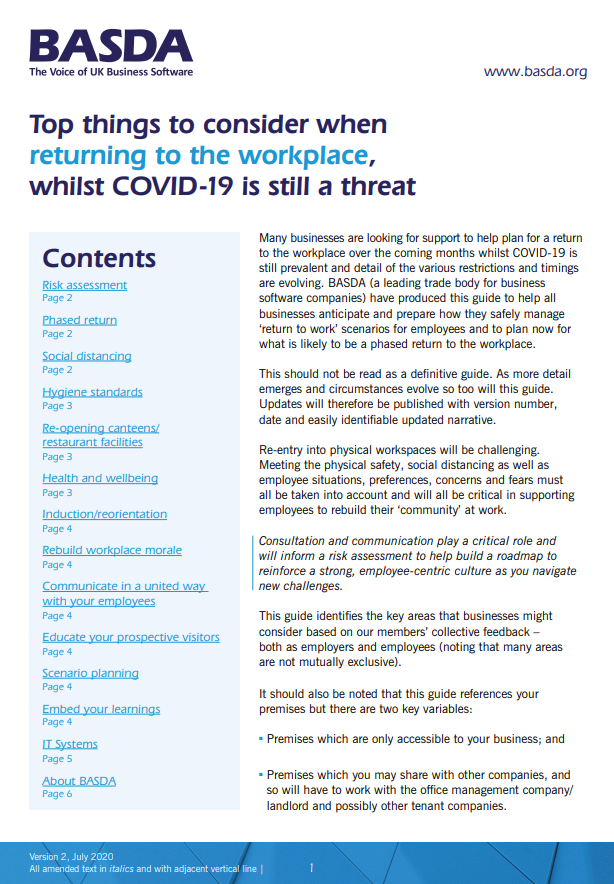 Accessibility and Inclusive Design
Many employees are still working from home and may have had to retrofit their 'home office' to ensure they are fully operational. A member of your team with impaired vision might use a screen reader, braille display or screen magnifier whilst someone with motor difficulties might use a special mouse, speech recognition software or on-screen keyboard emulator.
Many businesses may not realise that accessibility (i.e. inclusive design) can also increase customer loyalty and boost brand value. There are 14m disabled people in the UK (1 in 5 of the population) but only 4% of businesses are focused on making their products and online presence inclusive of disability.
Prioritising digital inclusion is critical for organisations – from a culture, development, employee and customer perspective.
BASDA recently hosted a webinar with key industry speakers discussing the importance of digital inclusivity for organisations. If you are starting your journey towards achieving a fully accessible organisation then check out the key highlights HERE.
Why Join BASDA
Find out more about the benefits of BASDA and how to join.