BASDA are delighted to be supporting the 2017 Software Excellence Awards, which business software vendors can be part of.  The awards are part of Practice Excellence Week, AccountingWEB's landmark festival of excellence.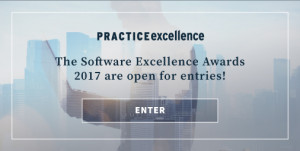 For many years, AccountingWEB has been mapping the accounting software landscape in fine detail. The largest business software survey is now underway and open for your supporting award entries! The AccountingWEB readers are already sharing their feedback through the AccountingWEB Software Excellence Survey on the business software they use across our 13 categories:
SME Accounts/Bookkeeping
Enterprise Accounting/ERP
Payroll
Expenses Management
Tax
Practice Management
Accounts Production
Forecasting, Planning & Analysis
Cloud App
Practice Suite
Making Taking Tax Digital Software
Innovation of the Year
2017 Software Excellence
How you can get involved?
Enter your software:
Alongside their survey, this year AccountingWEB are giving you the chance promote your innovations and client satisfaction expertise with a few judged categories. Expert judges will review your entries in addition to their community survey results. Enter here
Get the ratings:
Your clients can help support your entry as well as putting you forward for additional awards. To help, AccountingWEB have created a template email that you can send to your clients to encourage their feedback. As an incentive, they are offering one lucky winner £500 in Amazon, whilst two runners up will receive Amazon vouchers worth £250.
AccountingWEB will publish the full results this October and celebrate the REAL market leaders at the prestigious AccountingWEB Software Excellence Awards on the 19th of October, so make sure you encourage your customers to support you by taking the survey before 31 July.
Good luck!